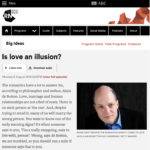 Just can't stop laughing about how much the truth hurts 😀
AlainDeBotton.com's Critique of Romanticism
http://abc.net.au/radionational/programs/bigideas/2016-08-08/7641598
A few snippets:
Instilled emotions propel us into Romanticism.

Romanticism tells us we're quite good and pure and perfect, very optimistic, we're all like children.

This attitude makes you self-righteous.

Bluntly: affected thru childhood and adulthood, we are all demented in slightly different ways. we're all just holding it together somehow (13:00)

No one can be bothered to tell you your obvious craziness which they know about after 30 mins of meeting you, unlike you who still doesn't know after 40 years.

And yes spot on about instincts. Cos while once healthy, they're now totally screwed, and off cue!

The cult of the instinct – we're looking for forms of torture 😉

Relationships – not about love, but about honesty!

Love is about admiration of what is good and accomplished in another person.

(53:00) But also about being pupil and teacher at the same time, pointing out stuff that sucks about the other so they get a chance to become the best possible version of themselves.

Love is connecting up with teaching. But you have to be relaxed, jovial, slightly lighthearted.

Melancholy is sadness worn with dignity. Sometimes you have to call on that emotion too.
My personal mantra echoed: Life is all about forgiveness. And so is love 🙂 just use your ethical imagination (not your ego).
Be a loveable idiot, and learn to love another idiot.